HEY! ALL YOU HELOTS, YOU ZEALOTS, YOU PELOPONNESIANS, YOU LEKADEAMONS.
ALL OF LEONIDAS'S ARMY! LET'S GET BARMY!
Errr whoops. Sorry wrong pep talk.
MISTRESSES
,
HAREM
CONGREGATION
. You are a flock of superior kind. Your zeal would make St. John Rivers clap and jump up and down in approval. Or at least nod fervently, colour high on his cheeks. Your dedication, friendliness and good cheer, shown so voraciously each week never ceases to leave me and my fellow Reverend speechless. Sometimes, I think of us as a super-cool, quaffed 50s street gang, a bit like that:
But I think we might be a bit more like this:
But substituting mambo with porn.
MY FELLOW REVEREND AND I WOULD LIKE YOU TO WELCOME TO YET ANOTHER SUNDAY SERVICE. Whether you are returning for yet another mass to sustain your mortal soul or whether you, led by curiosity or the illuminating light of porn, are here to experience the service for the first time. I would like to issue a warm warm welcome to ALL. EVERYONE WHO KNOCKS WILL BE WELCOME. ALWAYS.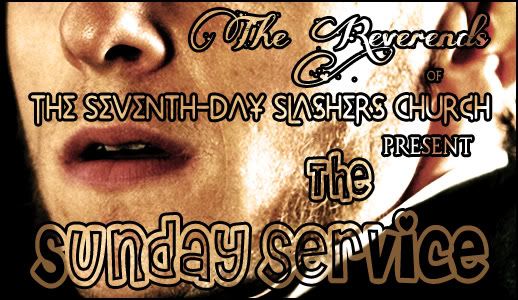 ( O di immortales! )